WISeKey's WISe.ART Digital Platform Powered With Cybersecurity, Blockchain and AI Technology Announces the Launch of an Exclusive NFT (Non-Fungible Token) of the Libres Movie on the NASDAQ Time Square Tower

FOR IMMEDIATE RELEASE
WISeKey's WISe.ART Digital Platform Powered with Cybersecurity, Blockchain and AI Technology Announces the Launch of an Exclusive NFT (Non-Fungible Token) of the Libres Movie on the NASDAQ Time Square Tower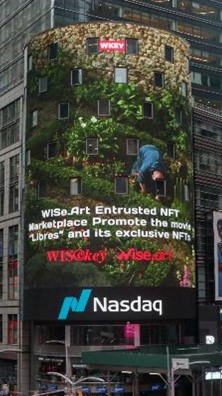 Geneva, June 26, 2023 – WISeKey International Holding Ltd. ("WISeKey") (SIX: WIHN, NASDAQ: WKEY), a leading global cybersecurity, AI, Blockchain, and IoT company, announced today that its WISe.ART platform has launched an exclusive NFT of the movie "Libres." The world premiere of this event revolves around the promotion of the motion picture in partnership with WISe.ART, a revolutionary platform committed to enhancing and promoting digital art through the power of blockchain technology and NFTs.  
For more information on Libre, including release dates, interested parties can visit Variety's website: https://variety.com/2023/film/global/fathom-bosco-libres-vivo-1235553406/.
The "Libres" movie, a powerful cinematic experience that transcends the boundaries of conventional storytelling, is now immortalized as a digital asset on the blockchain, through WISeKey's technology and its WISe.ART digital marketplace. The groundbreaking NFT was displayed on the colossal digital screens of the NASDAQ tower in Times Square, an emblematic location that marries the world of finance and technology with art and cinema.
"We are thrilled to pioneer the convergence of film and blockchain technology, showcasing the limitless possibilities of NFTs in modernizing the art and entertainment industries," said Carlos Moreira, CEO of WISeKey.
WISe.ART has established a unique marketplace for #NFTs, enabling artists and creators from diverse fields to monetize their work, enhancing its visibility and accessibility, ensuring copyright protection, and fostering a thriving digital art community.
Sixtine Crutchfield, Art Director of WISe.ART noted, "We believe that this event serves as a testament to the evolution of all arts including cinema, animation, music, dance and media art in the digital age. By broadcasting one of the first NFTs of a movie on the NASDAQ tower, we aim to raise awareness about the potential that NFTs hold in revolutionizing content ownership, preservation and distribution chains."
The full details about the movie and the NFT can be found here:
https://platform.wise.art/?product_cat=&post_type=product&s=libres
The future of digital art and cinema has never been more promising. Join us in this new era, where creativity and technology merge to redefine the boundaries of possible.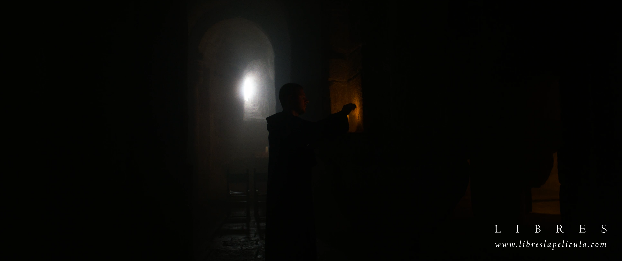 About Libres: For centuries, many men and women have left everything to dedicate their lives to contemplation. LIBRES, is a journey into the interior of man. We have obtained permission to enter and speak with people who rarely speak, in places that remain closed to the world: monasteries. What leads a person to divest himself of the world he knows, to withdraw from it for the rest of his life? How does such a person think? LIBRES approaches great questions of the existence of man, with a single objective: to listen to them.
About WISeKey:
WISeKey International Holding Ltd is a leading global cybersecurity company, currently deploying large scale digital identity ecosystems with a patented process. WISeKey's Swiss-based cryptographic Root of Trust ("RoT") provides secure authentication and identification in both physical and virtual environments for the Internet of Things, Blockchain, and Artificial Intelligence.
About WISe.ART:
WISe.ART platform leverages WISeKey's strong cybersecurity expertise, digital identity technology, and the power of blockchain to offer a unique marketplace for NFTs, connecting artists, buyers, and collectors, while ensuring the provenance and authenticity of digital artworks.
Press and investor contacts:
WISeKey International Holding Ltd
Company Contact:  Carlos Moreira
Chairman & CEO
Tel: +41 22 594 3000
info@wisekey.com 
WISeKey Investor Relations (US)
Contact:  Lena Cati
The Equity Group Inc.
Tel: +1 212 836-9611
lcati@equityny.com
Film Production:
Alvaro Perez de Madrid
Variopinto & Bosco Films
Tel: +34606460634
alvaro@produccionesvariopinto.com
Disclaimer:
This communication expressly or implicitly contains certain forward-looking statements concerning WISeKey International Holding Ltd and its business. Such statements involve certain known and unknown risks, uncertainties, and other factors, which could cause the actual results, financial condition, performance, or achievements of WISeKey International Holding Ltd to be materially different from any future results, performance or achievements expressed or implied by such forward-looking statements. WISeKey International Holding Ltd is providing this communication as of this date and does not undertake to update any forward-looking statements contained herein because of new information, future events or otherwise.
This press release does not constitute an offer to sell, or a solicitation of an offer to buy, any securities, and it does not constitute an offering prospectus within the meaning of article 652a or article 1156 of the Swiss Code of Obligations or a listing prospectus within the meaning of the listing rules of the SIX Swiss Exchange. Investors must rely on their own evaluation of WISeKey and its securities, including the merits and risks involved. Nothing contained herein is, or shall be relied on as, a promise or representation as to the future performance.