WISeKey Shareholders Approved all Resolutions of the Extraordinary General Meeting, and Bell Ceremony for SEALSQ to Take Place at the NASDAQ on May 26, 2023
WISeKey Shareholders Approved all Resolutions of the Extraordinary General Meeting, and Bell Ceremony for SEALSQ to Take Place at the NASDAQ on May 26, 2023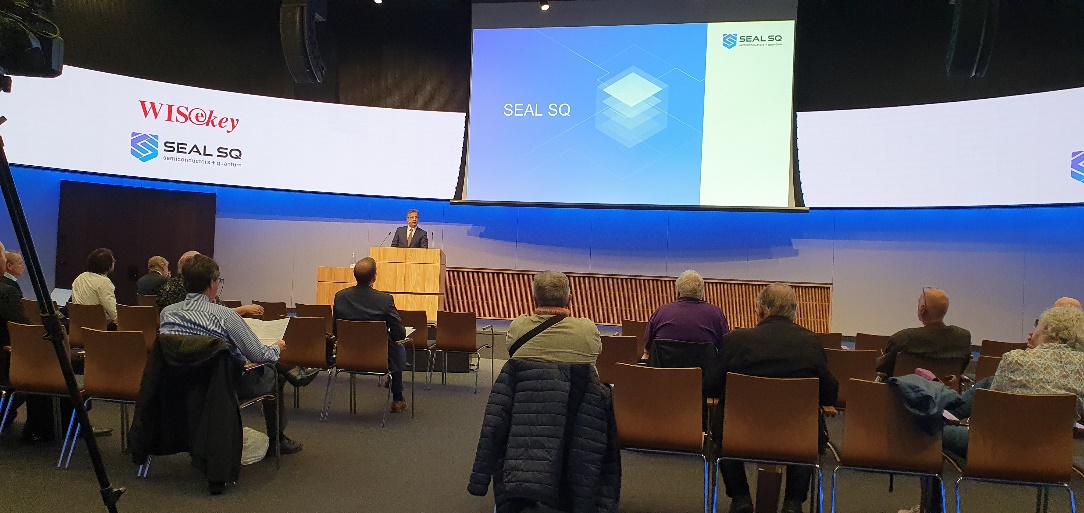 Zug, Switzerland – April 27, 2023– WISeKey International Holding Ltd ("WISeKey" or "Company") (SIX: WIHN, NASDAQ: WKEY), a leading global cybersecurity and IoT company is pleased to announce that its shareholders approved all items on the agenda of the Extraordinary General Meeting (EGM) held on April 27, 2023.
The EGM was called to approve the spin-off of WISeKey's semiconductor business by way of a dividend in kind consisting of Ordinary Shares in SEALSQ Corp. ("SEALSQ"). The related resolutions included a) the distribution of an extraordinary dividend in kind in the form of 1,500,300 Ordinary Shares in SEALSQ and b) the release of capital contribution reserves to other general reserves in an amount equal to the difference between the market value and the book value of the special dividend.
Unrelated to the spin-off transaction, shareholders also approved an amendment to the Company's Articles of Association to allow for hybrid and virtual general meetings and general meetings that are held outside Switzerland.
All resolutions were approved by an overwhelming majority of the shareholders present or represented at the meeting.
"We are pleased with the outcome of the EGM and would like to express our gratitude to all shareholders who participated in the meeting and approved the proposed resolutions," said Carlos Moreira, Founder and CEO WISeKey. "We believe the approval of these resolutions will help us implement our growth and global expansion strategy, thus create long-term value for our shareholders."
The Company will now take the necessary steps to implement the approved resolutions and ensure that all stakeholders are kept informed of any developments in this regard. Distribution of the extraordinary dividend in kind in the form of 1,500,300 Ordinary Shares in SEALSQ is expected to occur on or about May 31, 2023. Definitive record and payable dates for holders of WISeKey shares will be announced by WISeKey in due course. For holders of WISeKey's American Depositary Shares ("ADSs"), the record and payable dates for the dividend distribution will be determined and announced by BNY Mellon, the depositary bank for the WISeKey ADSs.
SEALSQ Ordinary Shares are currently expected to begin trading on the Nasdaq Global Market starting on or around May 26, 2023 under the ticker "LAES." The transaction remains subject to the applicable approvals and conditions to the transaction being satisfied or waived, including but not limited to, the approval of the listing of SEALSQ's Ordinary Shares on the Nasdaq Global Market. The Company confirmed that SEALSQ will ring the opening bell at the Nasdaq on May 26, 2023 to celebrate this milestone.
For further details regarding the independent valuation of SEALSQ, please refer to SEALSQ's U.S. registration statement on Form F-1.   The registration statement on Form F-1 can be found on WISeKey's website at the following address: https://www.wisekey.com/company/investors/.
WISeKey would like to take this opportunity to thank all of its shareholders for their continued support and is looking forward to delivering long-term value to its shareholders.
About WISeKey
WISeKey (NASDAQ: WKEY; SIX Swiss Exchange: WIHN) is a leading global cybersecurity company currently deploying large scale digital identity ecosystems for people and objects using Blockchain, AI and IoT respecting the Human as the Fulcrum of the Internet. WISeKey microprocessors secure the pervasive computing shaping today's Internet of Everything. WISeKey IoT has an install base of over 1.5 billion microchips in virtually all IoT sectors (connected cars, smart cities, drones, agricultural sensors, anti-counterfeiting, smart lighting, servers, computers, mobile phones, crypto tokens etc.).  WISeKey is uniquely positioned to be at the edge of IoT as our semiconductors produce a huge amount of Big Data that, when analyzed with Artificial Intelligence (AI), can help industrial applications to predict the failure of their equipment before it happens.
Our technology is Trusted by the OISTE/WISeKey's Swiss based cryptographic Root of Trust ("RoT") provides secure authentication and identification, in both physical and virtual environments, for the Internet of Things, Blockchain and Artificial Intelligence. The WISeKey RoT serves as a common trust anchor to ensure the integrity of online transactions among objects and between objects and people. For more information, visit www.wisekey.com.
Press and investor contacts:
WISeKey International Holding Ltd 
Company Contact:  Carlos Moreira
Chairman & CEO
Tel: +41 22 594 3000
info@wisekey.com
WISeKey Investor Relations (US) 
Contact:  Lena Cati
The Equity Group Inc.
Tel: +1 212 836-9611
lcati@equityny.com
Disclaimer:
This communication expressly or implicitly contains certain forward-looking statements concerning WISeKey International Holding Ltd, SEALSQ Corp and their respective businesses. Forward-looking statements include statements regarding business strategy, financial performance, results of operations, market data, events or developments that we expect or anticipates will occur in the future, as well as any other statements which are not historical facts. Although we believe that the expectations reflected in such forward-looking statements are reasonable, no assurance can be given that such expectations will prove to have been correct. These statements involve known and unknown risks and are based upon a number of assumptions and estimates which are inherently subject to significant uncertainties and contingencies, many of which are beyond our control. Actual results may differ materially from those expressed or implied by such forward-looking statements. Important factors that, in our view, could cause actual results to differ materially from those discussed in the forward-looking statements include the expected benefits and costs of the intended spin-off transaction, the expected timing of the completion of the spin-off transaction and the transaction terms, SEALSQ's ability to implement its growth strategies, SEALSQ's ability to continue beneficial transactions with material parties, including a limited number of significant customers; market demand and semiconductor industry conditions; the approval of SEALSQ's listing of its Ordinary Shares on NASDAQ and the risks discussed in WISeKey's and SEALSQ's filings with the SEC. Risks and uncertainties are further described in reports filed by WISeKey and SEALSQ with the SEC.
This press release does not constitute an offer to sell, or a solicitation of an offer to buy, any shares or other securities, and it does not constitute an offering prospectus within the meaning of the Swiss Financial Services Act ("FinSA"), the FinSa's predecessor legislation or advertising within the meaning of the FinSA. Investors must rely on their own evaluation of WISeKey and its securities, including the merits and risks involved. Nothing contained herein is, or shall be relied on as, a promise or representation as to the future performance of WISeKey.
The registration statement referred to in this press release, including the Prospectus contained therein, constitutes a foreign prospectus within the meaning of article 54 paras. 2 and 3 of the FinSA and article 70 paras. 2-4 of the Swiss Financial Services Ordinance of November 6, 2019, as amended.