WISe.ART Allows Artist to Showcase Their NFT Collection of Art Created by Artificial Intelligence Algorithms

WISe.ART Allows Artist to Showcase Their NFT Collection of Art Created by Artificial Intelligence Algorithms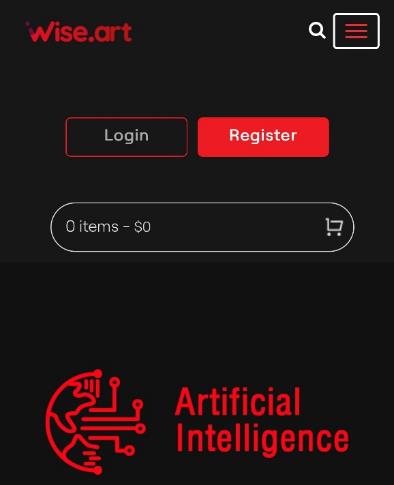 GENEVA / Zug – March 7, 2023: WISeKey International Holding Ltd. ("WISeKey") (SIX: WIHN, NASDAQ: WKEY), leading global cybersecurity, AI, Blockchain, and IoT company today announces that WISe.ART is launching a special NFT collection of Art created by Artificial Intelligence algorithms. WISe.Art NFTs, or non-fungible tokens, are unique digital assets that represent ownership of a specific piece of art. These tokens can be bought and sold like any other cryptocurrency, but they have the added benefit of verifying ownership and authenticity of a particular artwork.
 While art could be subjective, these new AI-generated artworks could challenge what most consider to be traditional art. Artists will be able use this new tool to create art we cannot imagine, there are no boundaries to their creativity as AI opens a whole new world to them.  New types of art will be produced including techniques such as three D immersive animations, AI will bring exposure to environments inaccessible until now, entirely new sensations will emerge from this revolution.
As with every new invention, there are controversies about artificial intelligence art creation, however, the many opportunities hugely outweigh the critics.     
To generate art NFTs using AI, there are several techniques that artists and creators can use at WISe.ART platform. One of the most popular approaches is to use a Generative Adversarial Network (GAN), which is a type of neural network that can learn to generate new images by studying existing ones.
To create an art NFT using a GAN, the artist first trains the network on a dataset of existing artwork, which can be anything from classical paintings to modern digital art. The GAN then generates new images based on this training data, which can be further refined by the artist until they are satisfied with the result.
Another approach to generating art NFTs using AI is to use style transfer, which is a technique that involves taking the style of one artwork and applying it to another. This can be done using Convolutional Neural Networks (CNNs), which are a type of neural network that can learn to extract features from images.
To create an art NFT using style transfer, the artist first selects an existing artwork as the "style" and a new image as the "content." The CNN then extracts the features of both images and applies the style of the first image to the second. This can result in unique and visually striking art NFTs that combine the style of one artwork with the content of another.
Overall, using AI to generate art NFTs offers an exciting new way for artists and creators to explore new forms of digital art. By harnessing the power of neural networks and machine learning, artists can create unique and one-of-a-kind art NFTs that are unlike anything else out there.
The NFT art has gained immense popularity in recent years, and the market for NFT art has grown significantly. NFT art refers to digital artwork that is verified through blockchain technology, making it unique and valuable.
According to a report by NonFungible.com, the NFT market grew by more than 299% in 2020, with over $250 million in sales. This growth is expected to continue in the coming years, with more artists and collectors joining the market.
Several factors are driving the growth of the NFT art market, including the increasing interest in digital art and the growing acceptance of blockchain technology. Moreover, NFTs provide a way for artists to monetize their work directly, without having to rely on traditional art galleries or auction houses.
However, it's important to note that the NFT art market is still relatively new and evolving, and its long-term success and growth will depend on several factors, such as regulatory frameworks, wider adoption of blockchain technology, and market demand.
In summary, while it's difficult to predict the exact size of the NFT art market, it's likely that it will continue to grow in the coming years, as more artists and collectors join the market, and as blockchain technology becomes more widely accepted.
The jury is still out on whether AI painting will be a substitution or an addition to the space. For the moment we are providing this unique platform for AI NFT art that can be monetized.
WISe.ART will donate all the proceeds from sales transacted on the platform to OISTE, an ONG investing in Cybersecurity programs protecting humans.  Artists will, of course, be free to donate their proceeds while all the Terms and Conditions (including royalties to be paid) will be defined in the smart contract.  WISe.ART team suggests artists upload their new limited editions of a 100, at USD 500 each.  It is crucial to create art every day and upload collections on a regular basis to keep the collectors alert and wanting more.
About WISe.ART
WISe.ART is a fully-fledged marketplace. It can connect all actors of the arts industry. Our white-labeling options and special NFT designs ensure that besides an authenticated and signed version of the actual digital asset, creating an irreversible link to the physical object, providing proof of ownership, provenance, and a set of smart contracts describing future use and monetization streams.
The WISe.ART NFT platform is fully secured by WISeKey's innovative security technologies enabling the authentication of digital assets, in a safe end-to-end process based on our experience and proven expertise in this domain.
About WISeKey
WISeKey (NASDAQ: WKEY; SIX Swiss Exchange: WIHN) is a leading global cybersecurity company currently deploying large scale digital identity ecosystems for people and objects using Blockchain, AI and IoT respecting the Human as the Fulcrum of the Internet. WISeKey Microprocessors Secures the pervasive computing shaping today's Internet of Everything. WISeKey IoT has an install base of over 1.6 billion microchips in virtually all IoT sectors (connected cars, smart cities, drones, agricultural sensors, anti-counterfeiting, smart lighting, servers, computers, mobile phones, crypto tokens etc.). WISeKey is uniquely positioned to be at the edge of IoT as our semiconductors produce a huge amount of Big Data that, when analyzed with Artificial Intelligence (AI), can help industrial applications to predict the failure of their equipment before it happens.
Our technology is Trusted by the OISTE/WISeKey's Swiss based cryptographic Root of Trust ("RoT") provides secure authentication and identification, in both physical and virtual environments, for the Internet of Things, Blockchain and Artificial Intelligence. The WISeKey RoT serves as a common trust anchor to ensure the integrity of online transactions among objects and between objects and people. For more information, visit www.wisekey.com.
Press and investor contacts:
WISeKey International Holding Ltd
Company Contact: Carlos Moreira
Chairman & CEO
Tel: +41 22 594 3000
info@wisekey.com
WISeKey Investor Relations (US)
Contact: Lena Cati
The Equity Group Inc.
Tel: +1 212 836-9611
lcati@equityny.com
Disclaimer:
This communication expressly or implicitly contains certain forward-looking statements concerning WISeKey International Holding Ltd and its business. Such statements involve certain known and unknown risks, uncertainties and other factors, which could cause the actual results, financial condition, performance or achievements of WISeKey International Holding Ltd to be materially different from any future results, performance or achievements expressed or implied by such forward-looking statements. WISeKey International Holding Ltd is providing this communication as of this date and does not undertake to update any forward-looking statements contained herein as a result of new information, future events or otherwise.
This press release does not constitute an offer to sell, or a solicitation of an offer to buy, any securities, and it does not constitute an offering prospectus within the meaning of article 652a or article 1156 of the Swiss Code of Obligations or a listing prospectus within the meaning of the listing rules of the SIX Swiss Exchange. Investors must rely on their own evaluation of WISeKey and its securities, including the merits and risks involved. Nothing contained herein is, or shall be relied on as, a promise or representation as to the future performance of WISeKey.