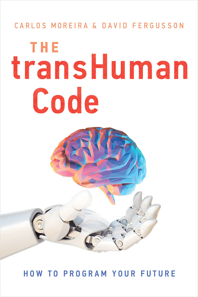 Esta obra reveladora plantea la siguiente pregunta: "¿Estamos construyendo un futuro mejor para la humanidad con la ayuda de tecnología imponente o, por el contrario, estamos construyendo un futuro de mejor tecnología en detrimento de la humanidad?"
Nueva York, NY (4 de junio de 2019) – Los coautores Carlos Moreira y David Fergusson anunciaron hoy el lanzamiento de su primer libro, The transHuman Code, que invita a los lectores a participar en el diálogo crítico sobre las ventajas y los peligros potenciales de los rápidos avances tecnológicos que hoy atraviesa nuestro mundo. Debemos aprender a priorizar a la humanidad en lugar de permanecer absortos en la promesa del avance tecnológico. Los seres humanos han podido adaptarse, transformarse y hacer concesiones en cada situación enfrentada a lo largo de los siglos, y han logrado mantener el dominio. Debemos abordar las promesas de la tecnología con la misma capacidad de adaptación.
A través de The transHuman Code, Moreira, pionero en tecnología que recibió numerosos galardones, y Fergusson, líder internacional en finanzas corporativas que se especializa en fusiones y adquisiciones, colaboran con líderes de opinión globales, que buscan centrar el interés de la humanidad en la tensión incipiente que se genera entre un mundo controlado por humanos o uno controlado por máquinas. Los autores y colaboradores proponen que iniciemos el diseño del futuro transhumano desde una perspectiva humana, asegurándonos de que la tecnología inspire la revolución o la evolución para que podamos garantizar que la humanidad continúe prosperando.
"Ahora es más importante que nunca participar en este debate crítico", afirmó Moreira. "La identidad humana tiene un valor, que ha sido y continuará siendo explotado, a menos que revirtamos las tendencias recientes en tecnología. Restituir el poder a los seres humanos que interactúan con la tecnología les permitirá materializar el verdadero valor de sus identidades, de formas que nunca creyeron posibles".
Fergusson comentó: "Con cada revolución industrial, la humanidad se ha refinado de formas sutiles y profundas, y el impacto ha sido, en gran medida, positivo. En esta 4.ª Revolución Industrial, las tecnologías innovadoras avanzan a un ritmo meteórico y desenfrenado. Esta profunda diferencia genera innumerables riesgos para toda la humanidad, a menos que seamos capaces de recuperar el control sobre esta dinámica. Creado para motivar la conversación entre los desarrolladores, los facilitadores y los usuarios de tecnología (es decir, todos nosotros), el libro sostiene que ante la ausencia de un "Regulador global de la tecnología", es nuestra responsabilidad individual y colectiva determinar qué tecnología, cuándo y dónde".
Para obtener más información sobre The transHuman Code: How to Program Your Future (El código transhumano: cómo programar su futuro), o para obtener una copia, el libro está disponible para su compra en línea en Amazon, Barnes & Noble, Target, Walmart, así como en Indiebound y NetGalley.
Acerca de los autores:
Carlos Moreira es un pionero en tecnología que recibió numerosos galardones y cuya experiencia en TI, seguridad en línea y gestión de la confianza con Naciones Unidas y la Organización Mundial del Comercio condujo a la creación, veinte años atrás, de una de las primeras empresas de ciberseguridad del mundo, WISeKey, en la que se desempeña como director ejecutivo. Actualmente, también es un líder activo y miembro de varias instituciones y organizaciones enfocadas en el avance de la innovación tecnológica y la preservación de la identidad humana. Reside en Ginebra, Suiza, con su familia.
Conéctese con Carlos en Twitter @CreusMoreira, y en LinkedIn.
David Fergusson es un líder de finanzas corporativas especializado en fusiones y adquisiciones globales, y se desempeña como director ejecutivo de Fusiones y Adquisiciones de Generational Equity. Colabora regularmente con líderes de empresas, medios de comunicación, políticos y académicos en relación con los factores que influyen en el crecimiento corporativo. Es un pionero y ha recibido premios internacionales por la inversión transfronteriza entre los Estados Unidos y China. Presidente del comité de expertos líder de la industria financiera, es reconocido como un experto en el impacto de la tecnología sobre las empresas, el gobierno y la humanidad. Reside con su familia en Westchester, Nueva York.
Conéctese con David en Twitter @dafergusson, y en LinkedIn.
 Contacto para los medios:
Mark Hanes
TallGrass Public Relations
(917) 359-0697