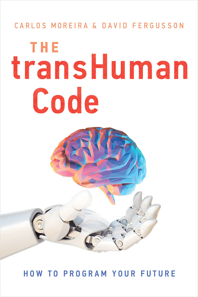 Die aufschlussreiche Arbeit wirft folgende Frage auf: "Bauen wir mit Hilfe großartiger Technologie eine bessere Zukunft für die Menschheit oder bauen wir stattdessen auf Kosten der Menschheit eine Zukunft mit besserer Technologie?"
New York, NY (USA), 4. Juni 2019 — Die Ko-Autoren Carlos Moreira und David Fergusson haben heute die Veröffentlichung ihres ersten Buches bekanntgegeben. The transHuman Code: How to Program Your Future (deutsch: Der transhumane Code: Wie Sie Ihre Zukunft programmieren) ist ein Buch, das den Leser zum kritischen Dialog über die Vorteile und potenziellen Gefahren der rasanten technologischen Fortschritte einlädt, die unsere Welt heute erlebt. Wir müssen lernen, die Menschheit an die erste Stelle zu setzen, anstatt vom Versprechen des technologischen Fortschritts gefangen zu werden. Der Mensch ist bisher in der Lage gewesen, sich in jeder Situation, in der er sich im Laufe der Jahrhunderte befand, anzupassen, sich zu verwandeln sowie Kompromisse einzugehen und seine Vorherrschaft aufrechtzuerhalten. Wir müssen die Versprechen der Technologie mit der gleichen Anpassungsfähigkeit angehen.
The transHuman Code ist das Ergebnis der Zusammenarbeit von Moreira, einem mehrfach preisgekrönten Technologiepionier, und Fergusson, einem führenden auf Fusionen und Übernahmen spezialisierten internationalen Experten für Unternehmensfinanzen, mit globalen Vordenkern, die versuchen, die Menschheit in der Spannung zwischen einer von Menschen und einer von Maschinen gesteuerten Welt in den Mittelpunkt zu stellen. Die Autoren und Mitwirkenden schlagen vor, die Gestaltung der transhumanen Zukunft aus menschlicher Sicht zu beginnen und sicherzustellen, dass die Technologie die Revolution oder Evolution anregt, damit die Menschheit weiterhin gedeihen kann.
"Es war noch nie so wichtig wie jetzt, sich auf diese kritische Diskussion einzulassen", sagte Moreira. "Die menschliche Identität hat einen Wert, der ausgenutzt wurde und wird, wenn wir die jüngsten Technologietrends nicht umkehren. Indem die Menschheit selbst die Macht wieder in die Hände der Menschen legt, die sich mit Technologie beschäftigen, können wir Menschen den wahren Wert unserer Identität auf eine Weise erkennen, die wir nie für möglich gehalten hätten."
Fergusson kommentierte: "Mit jeder industriellen Revolution wurde die Menschheit auf subtile und tiefgreifende Weise verändert und die Auswirkungen waren größtenteils positiv. In dieser vierten industriellen Revolution schreiten innovative Technologien mit unkontrolliertem, rasend schnellem Tempo voran. Dieser tiefgreifende Unterschied birgt unermessliche Risiken für die gesamte Menschheit – es sei denn, wir können die Kontrolle über diese Dynamik wiedererlangen. Das Buch wurde als Gesprächsanstoß für Entwickler, Wegbereiter und Anwender von Technologie – eigentlich für uns alle – geschaffen und seine Autoren sind der Ansicht, dass es in Ermangelung eines "globalen Wächters über Technologie" unsere individuelle und kollektive Verantwortung ist, zu bestimmen, welche Technologie wann, in welcher Weise und wo eingesetzt wird."
Weitere Informationen zu The transHuman Code: How to Program Your Future erhalten Sie online unter Amazon, Barnes & Noble, Target, Walmart sowie Indiebound und NetGalley, wo Sie das Buch auch käuflich erwerben können.
Über die Autoren:
Carlos Moreira ist ein mehrfach preisgekrönter Technologiepionier, dessen Erfahrung in den Bereichen IT, Onlinesicherheit und Vertrauensmanagement bei den Vereinten Nationen und der Welthandelsorganisation vor zwanzig Jahren zur Gründung eines der weltweit ersten Cybersicherheitsunternehmen, WISeKey, geführt hat, dessen CEO er heute ist. Heute ist er außerdem aktiver Leiter und Mitglied verschiedener Institutionen und Organisationen, die sich auf die Förderung technologischer Innovationen und die Wahrung der menschlichen Identität konzentrieren. Er lebt mit seiner Familie in Genf in der Schweiz.
Treten Sie mit Carlos Moreira auf Twitter@CreusMoreira und auf LinkedIn in Verbindung.
David Fergusson ist ein führender auf globale Fusionen und Übernahmen spezialisierter Experte für Unternehmensfinanzen und Executive Director of M&A bei Generational Equity. Er unterhält sich regelmäßig mit Führungskräften aus Wirtschaft, Medien, Politik und Wissenschaft über die Faktoren, die das Unternehmenswachstum beeinflussen. Er ist ein Pionier und internationaler Preisträger für grenzüberschreitende Investitionen zwischen den USA und China. Er ist Vorsitzender der führenden Denkfabrik der Finanzbranche und anerkannter Experte für die Auswirkungen von Technologie auf Unternehmen, Regierungen und die Menschheit. Er wohnt mit seiner Familie in Westchester, New York (USA).
Treten Sie mit David Fergusson auf Twitter @dafergusson und auf LinkedIn in Verbindung.
 Medienkontakt:
Mark Hanes
TallGrass Public Relations
(917) 359-0697